One of the most enjoyable parts of the camping experience is preparing food around a campfire and learning how to create any number of simple, tasty dishes with ingredients already found around the house.
Food always tastes a little better outside, and dinner prepared while camping is no exception — especially when the recipes are this easy.
Breakfast: Corned Beef and Potato Hash
By Jenny Nguyen-Wheatley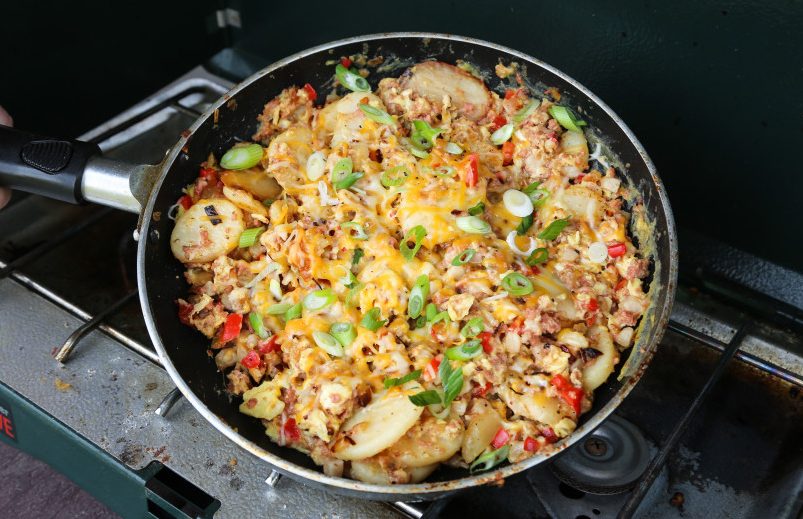 Servings: 4-6
Ingredients:
• 2 (14.5-ounce) cans of sliced/diced new potatoes, drained
• 3 tablespoons of unsalted butter
• 12-ounce can of Hormel corned beef, diced
• 4 large eggs, beaten
• Half a yellow onion, chopped
• 1 red pepper, seeded and diced
• 1 cup of shredded cheddar cheese
• Salt and pepper, to taste
• 2 green onions, chopped
• Hot sauce, optional
1. To save time, dice/chop corned beef, onions and red pepper at home; store ingredients in zip-top bags and keep cold until ready to use. If desired, use liquid whole eggs for convenience.
2. In a large nonstick or cast-iron skillet, melt butter over medium heat. Add chopped onion and diced red pepper, and cook for 5 to 7 minutes or until tender, stirring frequently. Next, turn heat to medium high and add well-drained canned potatoes. Cook potatoes until warmed through and browned to your liking; flip potatoes with a spatula to prevent breaking. Next add diced corned beef and beaten eggs, and gently mix them into the potatoes until eggs are set and corned beef is warmed through; lower heat if needed. Season to taste, and sprinkle chopped green onion and shredded cheddar cheese on top while it's still hot.
Breakfast: Beer Pancakes
By Christy Christiansen
Servings: 4
Ingredients:
• 1 cup of sifted all-purpose flour
• ¼ cup of white sugar
• ¾ teaspoon of baking powder
• ½ teaspoon of salt
• 1 egg, beaten
• 1 cup of beer
• 2 tablespoons of butter, melted
1. At home, stir together dry ingredients in a zip-top bag.
2. At camp, combine dry and wet ingredients. Prepare your heat source, such as coals — burning pinecones also are great for this type of fast cooking. Spray cooking surface, such as a turned-over Dutch oven lid or a skillet, with Pam, or use butter. Then pour pancake batter onto the lid. Wait for bubbles to form on the surface and then flip.
Lunch: Walking Taco
By Jenny Nguyen-Wheatley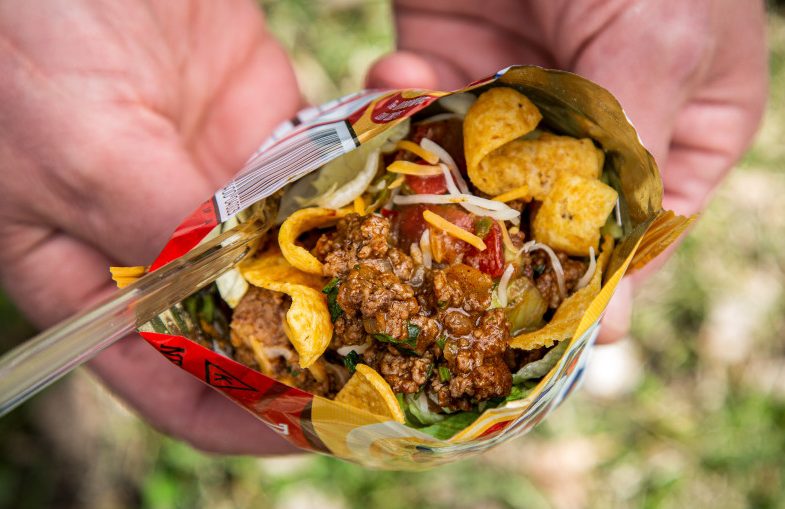 Servings: 6
Ingredients:
• 1 pound of lean ground beef or venison
• 1 tablespoon of oil
• Half an onion, chopped
• 1 package of taco seasoning mix
• ¾ cup of water
• 1 small package of pre-washed shredded iceberg lettuce
• 1 jar/package of salsa or pico de gallo
• 1 package of prepared guacamole
• Chopped cilantro
• 1 package of shredded Mexican cheese blend
• 6 (2-ounce) bags of Original Fritos Corn Chips or Doritos
• Hot sauce
1. To save time, chop onion and cilantro at home; store ingredients in zip-top bags and keep cold until ready to use.
2. In a skillet, heat oil over medium-high heat. Add ground meat and onion, breaking up the meat with a spoon and stirring until browned. Drain excess fat if necessary, then add taco seasoning mix and water. (Use half the seasoning mix if you're using chips that are already seasoned.) Simmer meat on medium low for 10 minutes, stirring occasionally. Meanwhile, set out the other ingredients to offer a taco "bar." Cut the chip packages along the long side and allow each person to fill their own taco bags with meat and fixings.
Lunch: Dutch Oven Cheeseburger Pie
By Christy Christiansen
Servings: 8 slices
Ingredients:
• 1 can Pillsbury pizza crust
• 1 box pizza crust mix (the kind you mix with water)
• Ketchup and mustard, to taste
• 1½ pounds ground beef, browned (pre-cooked)
• 1 pound of bacon, cooked
• 2 cups shredded cheddar cheese
• 1 medium size onion, chopped
• 1 small jar hamburger dill pickle chips
• 1 tomato, diced
1. Grease the bottom of a 12-inch Dutch oven with shortening. Spread the pizza dough into the bottom. Top the dough with cooked hamburger, squirt ketchup and mustard over the top (about ½ cup ketchup and 1 tablespoon of mustard) and layer on desired amounts of onion, tomato, pickles, bacon and cheese. Mix pizza crust mix with enough water for it to be runny and pour it over the other ingredients.
2. Use 8 coals on the bottom and 14 coals on the top. Bake for 20 minutes. Replace spent coals on top and bake for an additional 10-15 minutes until the pizza crust on top sets.
Dinner: Campfire Lemon Chicken Foil Dinner
By Jenny Nguyen-Wheatley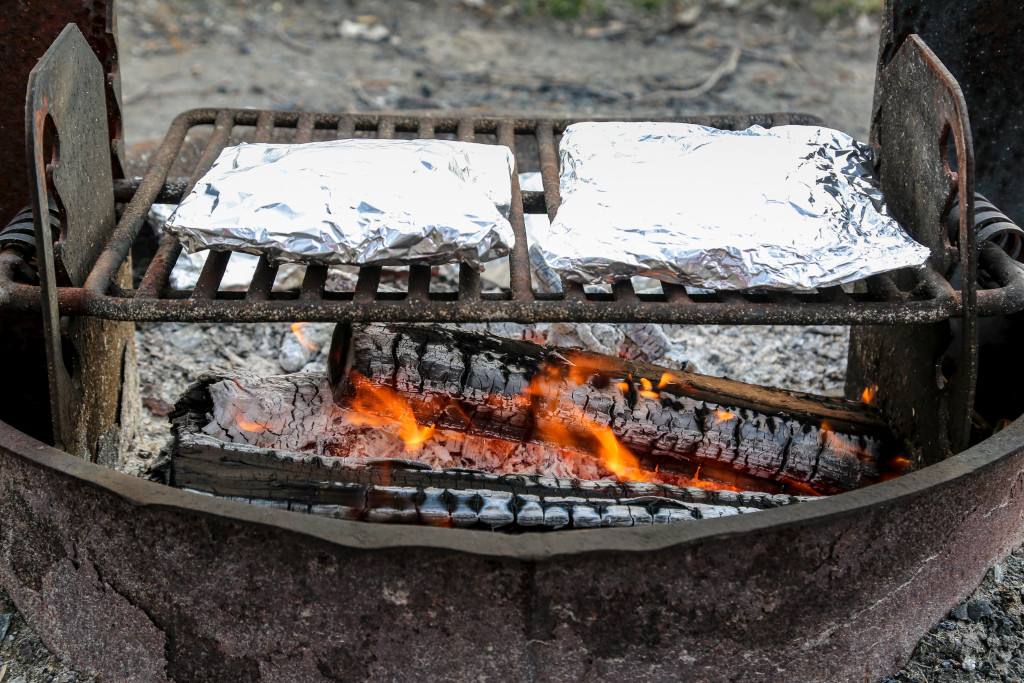 Servings: 6
Ingredients:
• 6 chicken thighs, skin on or off
• 6 medium shallots, thinly sliced
• Olive oil
• Montreal Chicken Seasoning
• 1 package of baby carrots, sliced in half lengthwise
• ⅓ pound of fresh green beans, ends trimmed
• 6 small/medium Yukon gold potatoes, cut into small cubes
• 1 lemon, thinly sliced
• Salt to taste
1. Prepare grill or campfire to medium-high heat, about 375-400 degrees.
2. Cut out 6 large sheets of heavy-duty aluminum foil. Scatter carrots, green beans and sliced potatoes onto each sheet, and season with salt and pepper or your favorite vegetable seasoning. Pat chicken thighs dry with paper towels, rub with olive oil and Montreal Chicken Seasoning and place in the middle of vegetables. Lay a slice or two of lemon on top of chicken and scatter shallot on top. Fold foil into packets. Cut another set of aluminum foil, lay the packets seam side down and fold again with this second layer to prevent leakage.
3. Cook chicken packets on preheated grill grates for 20-30 minutes, flipping the packets once. The internal temperature of the chicken should be at least 165 degrees when fully cooked. Be careful when opening up the packets — hot steam will escape.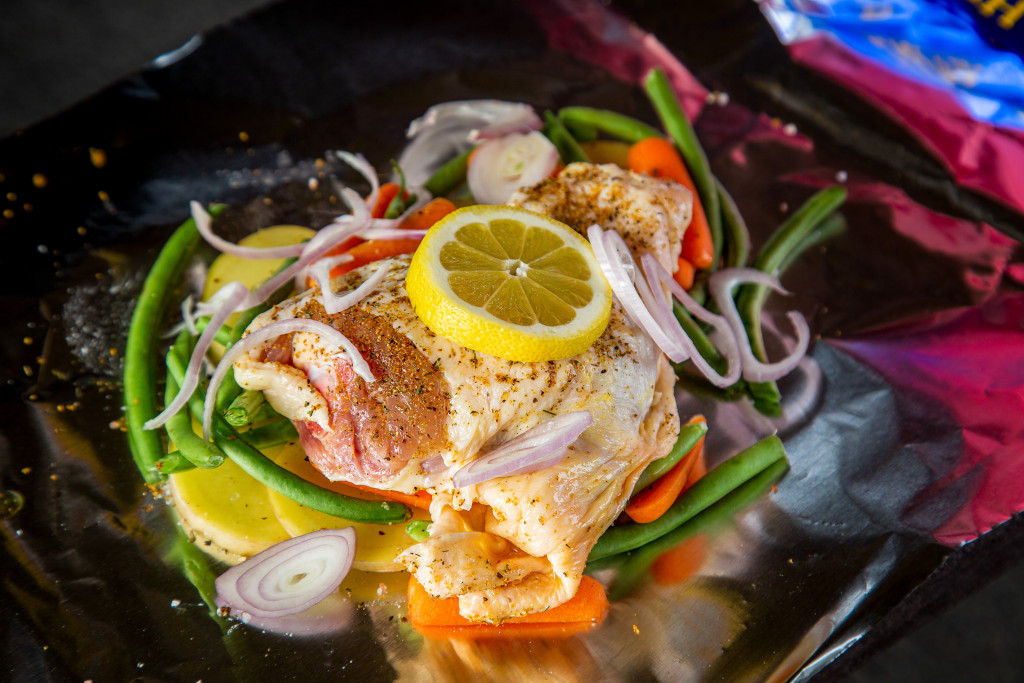 Dinner: One-Pan Steak Dinner
By Jenny Nguyen-Wheatley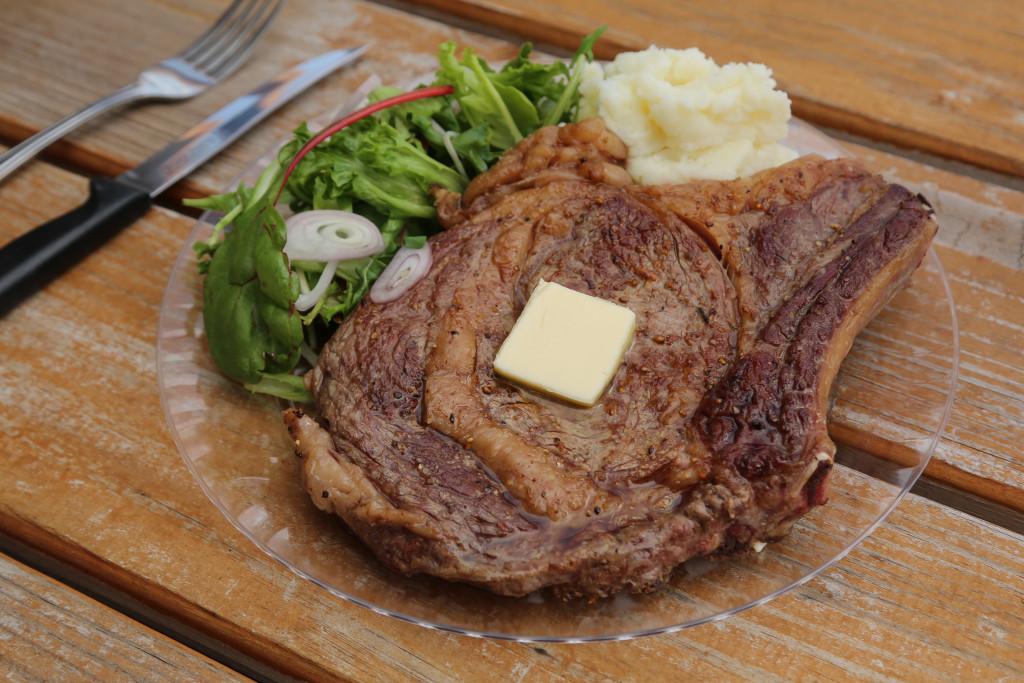 Servings: 4
Ingredients:
• 4 ribeye steaks (1 inch thick)
• Coarse salt and pepper, to taste
• 1 tablespoon of oil
• 4-ounce package of Idahoan instant mashed potatoes
• 2 cups of water
• 2 tablespoons of butter, divided
• 1 package of pre-washed spring salad mix
• Your favorite salad dressings
Special equipment: Two gallon-size zip-top bags and kitchen towels
Note: An hour before you cook, take steaks out of your cooler to let them warm up a bit — cold steaks do not cook evenly. I usually start cooking my steaks when they feel like room temperature to the touch. Keep your steaks covered to keep away bugs, pets, wild animals and debris. However, use common sense. Don't leave your steaks out long if it's a scorching 115 degrees outside.
1. First, make the mashed potatoes. Bring 2 cups of water to a boil (as stated on the packaging). Meanwhile, line the first zip-top bag with the other one, and empty the Idahoan mashed potatoes packet into the bags. This step may require an extra set of hands — carefully pour boiled water into the double bag. Squeeze out most of the air and close the bags. Keep warm and set aside.
2. To cook the steaks, heat oil over medium-high heat. Dab steaks dry with paper towels and season liberally with coarse salt and pepper. When oil begins to slightly smoke, cook each steak for 2-3 minutes on each side for medium-rare. Use a meat thermometer to be sure — shoot for 130 degrees. Place a pat of butter on top of each steak, tent with foil and allow them to rest for 5 minutes before serving.
3. Carefully massage the mashed potato bag using kitchen towels to cover your hands — bag will be hot. Serve steak and mashed potatoes with salad on the side. To make this dinner extra special, bring a bottle of red wine with you to camp, where permissible.
Dessert: Cinnamon, Apple and Brie Mini Pies
By Jenny Nguyen-Wheatley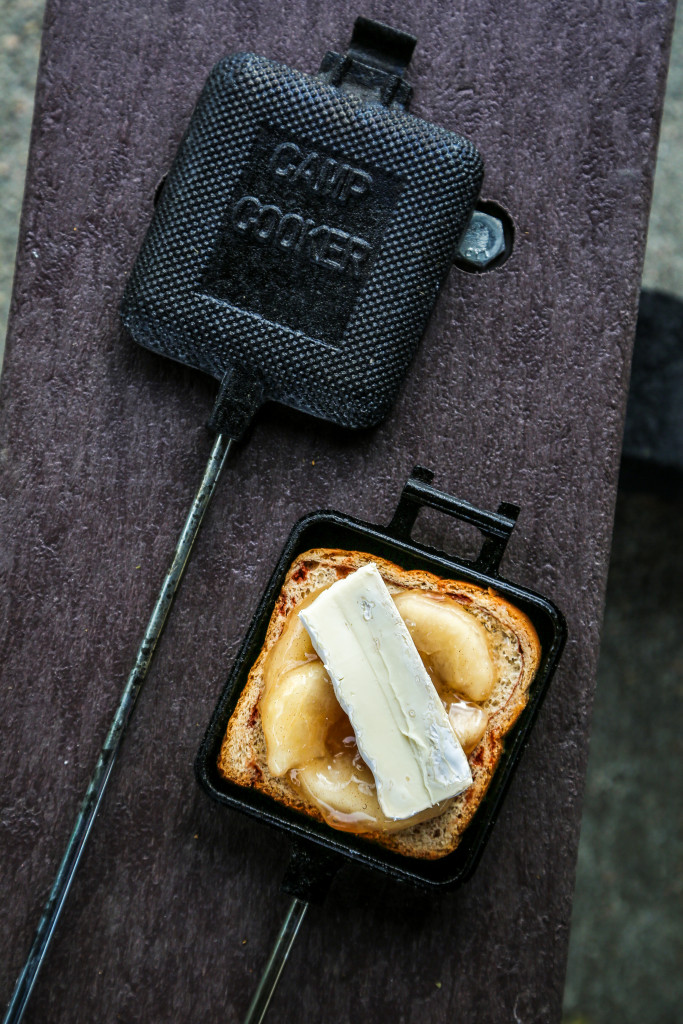 Servings: 4
Ingredients:
• 8 slices of cinnamon swirl bread
• 1 can of apple pie filling
• 4-8 slices of brie cheese
Special Equipment: pie iron(s) and cooking spray
1. Prepare your campfire to create medium-hot coals. If your pie iron is new, follow package directions to season it if needed. Spray the inside of pie irons with cooking spray. Then lay one slice of bread onto one pie iron flap. Spread apple pie filling onto the bread and top with a slice or two of brie cheese and cover with the second slice of bread. Hinge the pie iron closed with the second flap. If the bread slices are bigger than the pie irons, that's OK. Push down to create a seal in the bread and cut off excess bread sticking out.
2. Lay the pie irons on top of medium-hot coals and toast for 5-10 minutes, flipping and rotating occasionally. Periodically check for doneness — bread should look golden brown and apple pie filling should be warmed through. (Do not stick your pie irons directly into the fire — you will burn the bread black before the inside warms.)
Dessert: Campfire Apple-Berry Crisp
By Jenny Nguyen-Wheatley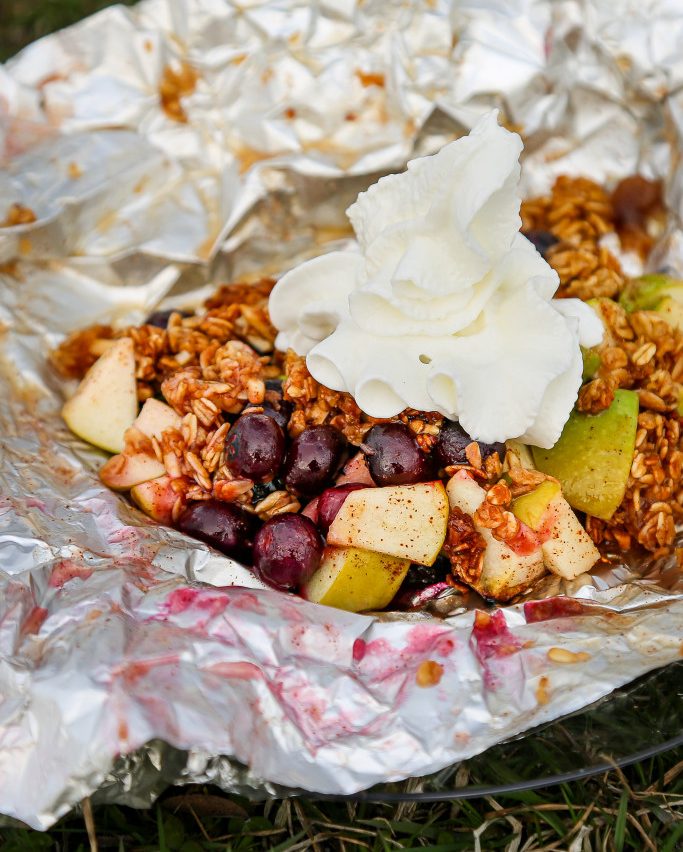 Servings: 6
Ingredients:
• 6 tart apples, cored and sliced
• Handful of fresh blueberries
• Juice of half a lemon
• 3 tablespoons of flour
• ½ cup of white sugar
• 1 teaspoon of cinnamon
• 1 pinch of salt
• 1 package of granola*
• 6 tablespoons of butter, divided
• ¼ cup of packed light brown sugar, divided
• Whipped cream
1. Prepare campfire or grill. In a large bowl, combine sliced apples, blueberries, lemon juice, flour, white sugar, cinnamon and salt. Lay out 6 squares of heavy-duty aluminum foil and evenly divide fruit mixture onto each piece of foil. Top each pile of fruit with granola to taste, sprinkle with brown sugar and a pat of butter. Fold the foil and crimp edges to make packets. Then double wrap each pouch with another sheet of aluminum foil to prevent leakage. Place the packets near the fire where the temperature is about medium-low. Cook for 20 minutes or until apples and blueberries soften and bubble, rotating packets occasionally. Be careful when opening up pouches. Serve with whipped cream on top.
*I recommend granola flavored with toasted coconut.