Conestoga Lake is a peaceful retreat. But it's not as quiet as it used to be. That's what happens whenever improvements are made to a fishery near Nebraska's capital city. And the improvements made to Conestoga were many.
Located south of Emerald, Conestoga State Recreation Area is one of 11 Salt Valley Lakes built around Lincoln in the 1960s and 1970s by the U.S. Army Corps of Engineers. The dam on Holmes Creek that created the reservoir was completed in 1963. The 230-acres lake and 486 acres of land around it were leased to the Nebraska Game and Parks Commission in 1965.
Like the rest of the lakes in the area, it was an excellent fishery when it was new, and a popular camping spot. But time took its toll on the lake and sediment inflows from the watershed and shoreline erosion, caused by wind-driven waves, powerboating and ice, had consumed one-third of its original volume. Water quality declined, algae blooms were common, and the amount of lake capable of supporting fish had declined. Considering carp and gizzard shad made up most of the fish population in the lake, anglers had little reason to visit. Some campers still did, enjoying a new RV campground built in 1999. And speed boats and jet skis still zoomed around the surface. But many found other places to go.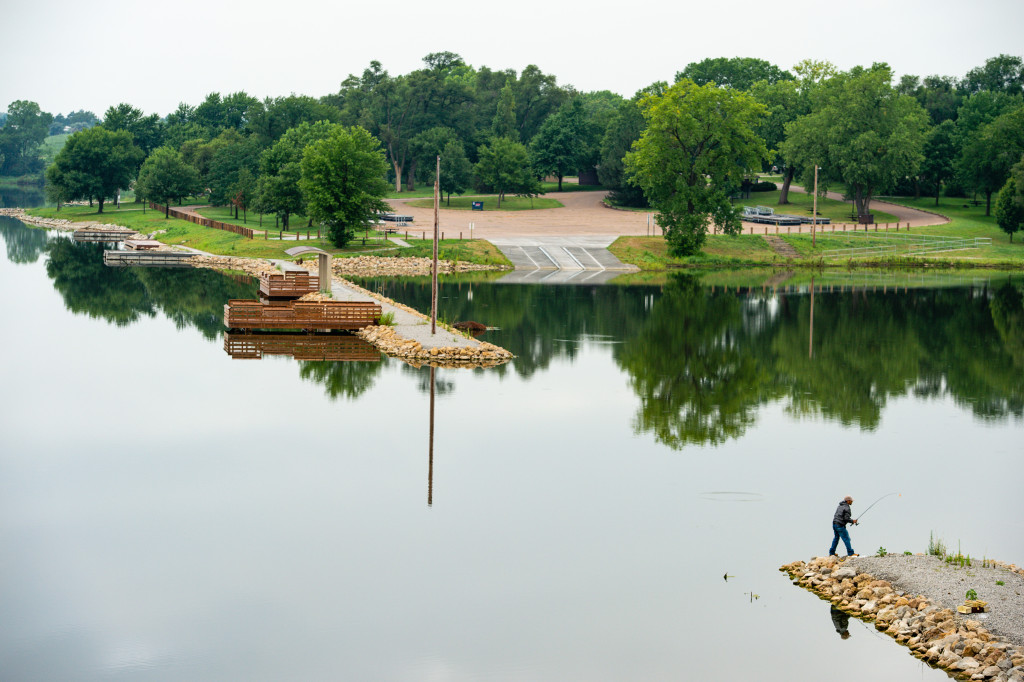 Enter the Commission's Aquatic Habitat Program. The lake was lowered in 2014 and work on the $8.6 million project, the biggest in the program's 25-year history, began in 2016 and was completed in 2018. The lake was deepened, and structure was added to attract and support fish. What anglers and campers see, however, are the numerous features built to improve fishing access and protect the shoreline.
Breakwaters protect a bay on the lake's north shore from southerly winds. In the bay, there is a new two-lane boat ramp with a wheelchair-accessible dock which replaces the single lane ramp that was located in the main arm. A mooring dock, with room for 12 boats, gives people a place to park while heading back to camp for lunch. It is also wheelchair accessible, as is a kayak launch on the other end of the bay.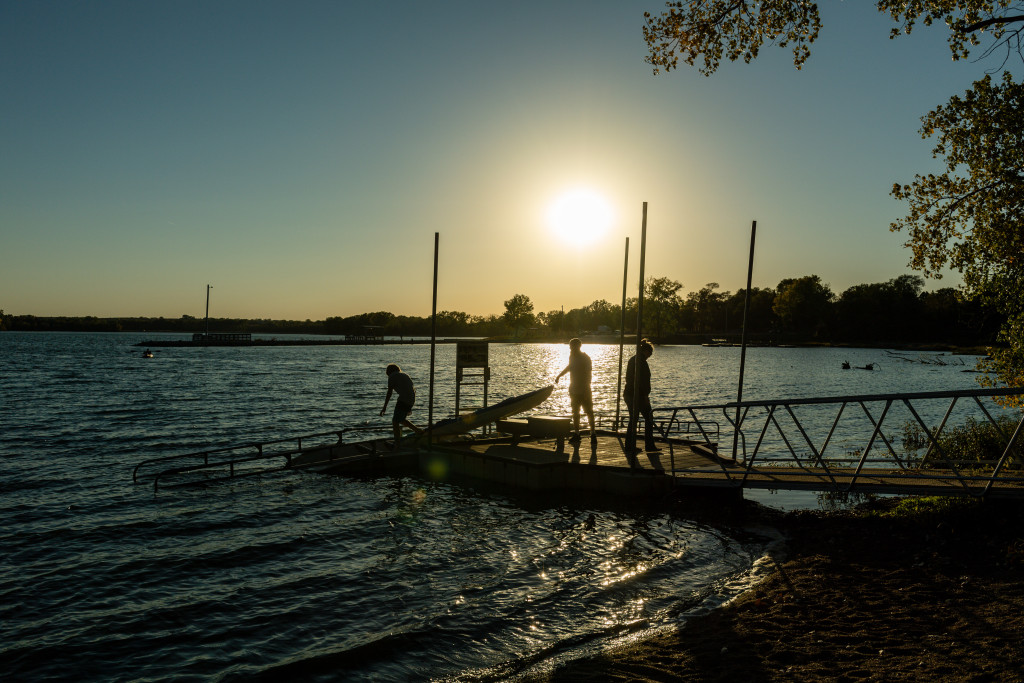 One of two fishing decks on the main breakwater on that bay and two fishing pads next to it are wheelchair accessible. There are 12 other fishing pads and points spread around the lake to get anglers closer to deep water. Access trails lead to two other fishing breakwaters on the lake, including one on the south side near a new parking lot and latrine.
The Angler Access Program, an offshoot of the Aquatic Habitat Program begun in 2010, paid for these access features, contributing $1.2 million of the overall cost of the work at Conestoga.
One of those trails also leads to a wildlife viewing deck on the sediment dam in the upper end of the main arm of the lake. Grants from the Nebraska Environmental Trust and the Department of Environment and Energy paid for the deck and much of the wetland work done above the dam. The wetlands and the stream that flows through the wildlife management area that covers 396 acres mostly west and south of the lake attract thousands of migrating ducks and geese in the spring and fall. The entire lake and WMA are designated as a waterfowl refuge, so those birds can't be hunted, but hunters do enjoy pursuing white-tailed deer, pheasants, quail and small game on the area.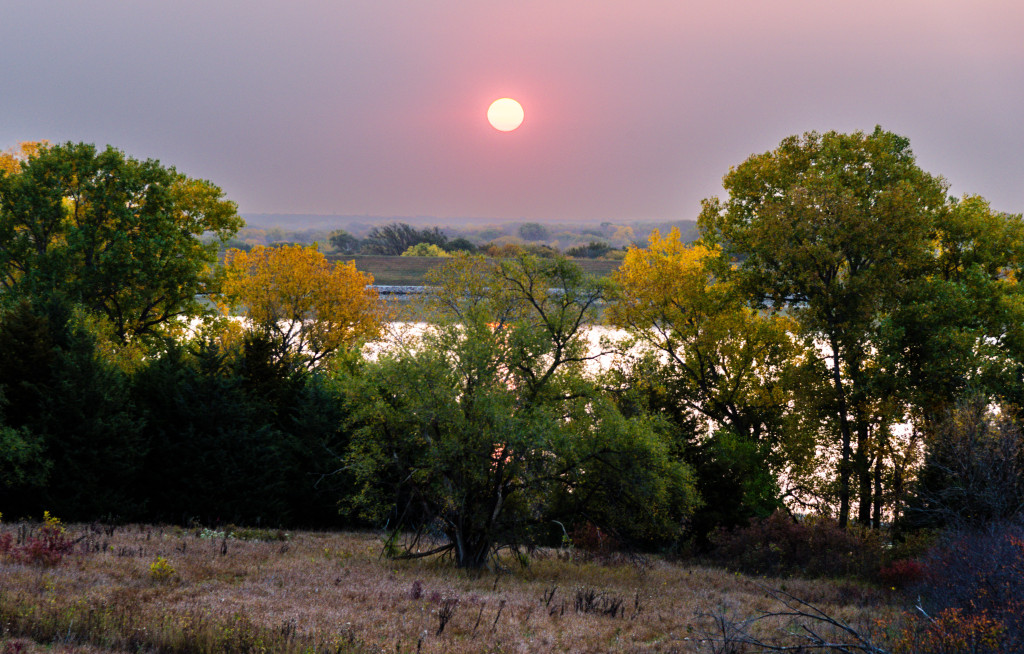 And there are plenty of fish. Last year, anglers were already catching 10-inch crappies. This year, they will be catching 8-inch bluegills. And there will be plenty of 15-inch largemouth bass to bend a pole, and a few walleyes and catfish that have reached keeper-sized proportions.
The main area on the north side of the lake offers 25 camping pads with electrical hookups and eight more without electricity. There are another 24 designated campsites without electricity for tent campers. Eight of those tent sites and a day-use area are next to the lake, new fishing pads, and a 100-yard-long sidewalk that sits above water that is 3 feet deep and within casting distance of brush and tree piles that attract fish.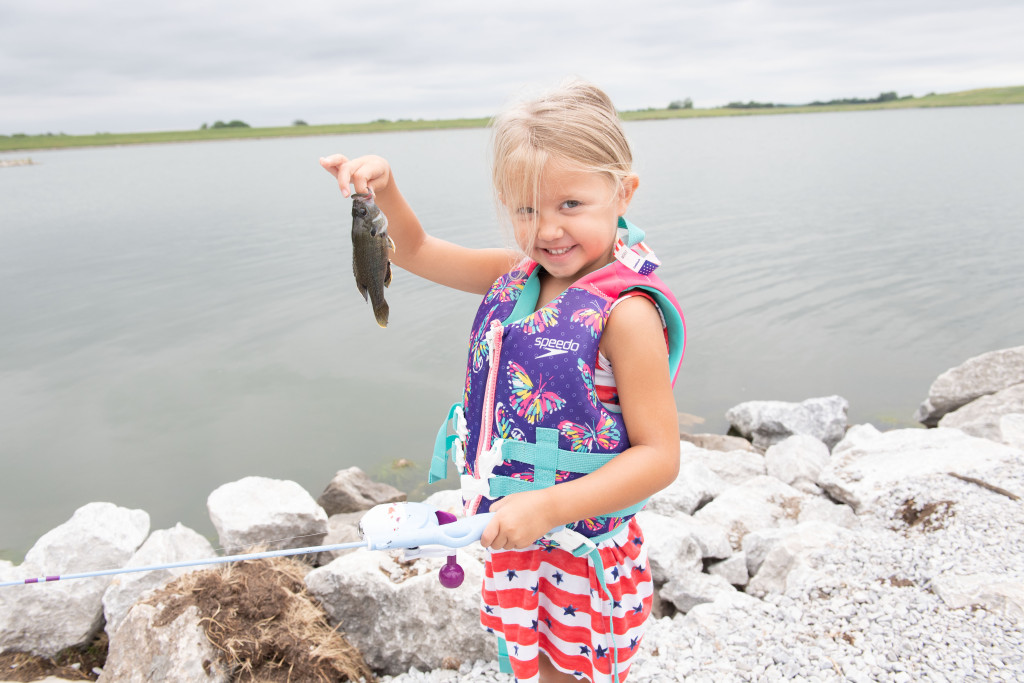 Anglers are already flocking to the lake, some throwing spinnerbaits from their boat searching for bass and others content to watch from shore and wait for a panfish to pull their bobber under. "There are always people there, any time, even in the rain," said Jay Woltemath, who manages the Commission's parks on the Salt Valley Lakes. "It's an outstanding place to take little kids with Barbie poles for bluegill fishing. I had two of my own grandkids catch their first fish there last summer."
The trees planted around those RV campsites that were added in 1999 have now grown up to offer plenty of shade. None can be reserved. Visitors can no longer water ski at Conestoga: a 5 mph speed limit was imposed to reduce wave erosion and protect the investment. Still, the improved fishing and other opportunities the lake offers has made the campsites more popular than ever.
"If you want to get in there you'd better not wait until Friday," Woltemath said.
That's what happens when the Aquatic Habitat Program breathes new life into aging waters.  ■
An Anniversary Celebration
• 25th Anniversary, Aquatic Habitat Program
• June 18, 3-7 p.m., Conestoga SRA
• Activities: Fishing, bowfishing, kayaking, boat tours, educational booths and food trucks.
• Projects complete:172
• Dollars Spent: $90 million from Aquatic Habitat Stamp, Federal Sport Fish Restoration Program and other sources.
Aquatic Habitat Program
Flood control reservoirs aren't expected to last forever. Rivers and streams inherently carry sediment from the watershed. Banks erode, adding more sediment. Many are expected to fill in just 100 years.
Conestoga Lake was no exception. Completed in 1963, it had lost one-third of its original storage capacity of 2,400 acre feet to sedimentation by 2013. The maximum depth had dropped from more than 20 feet to 16. The west half of the reservoir was less than 6 feet deep, and much of the lake was 2 feet deep or less.
"Shallow, muddy, full of carp and gizzard shad and powerboaters," is how Jeff Jackson, head of the Commission's Aquatic Habitat Program, described the lake.
"Essentially it was a mud bowl," said Aaron Blank, southeast district fisheries manager for the Nebraska Game and Parks Commission.
Fast forward to today, and you will find a lake full of fish that is already attracting anglers in droves thanks to an $8.5 million Aquatic Habitat and Angler Access Program project that began in 2014 and was completed in 2018.
Most of the work involved addressing the number one problem: sediment. With little deep water remaining, and no aquatic vegetation growing in the shallows, there wasn't much habitat left for fish. Additionally, the sediment also contained nitrogen, phosphorus and other nutrients washed from farm fields that fueled large algae blooms. "It was probably nearing the end of its life expectancy as far as recreation sport fishery at that point," Jackson said.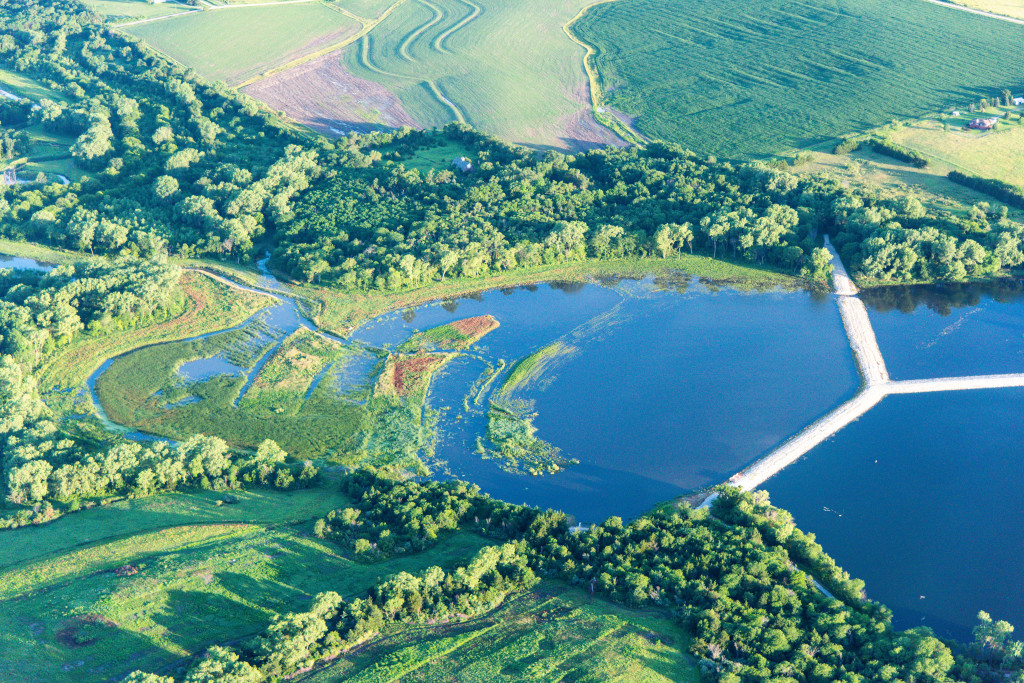 Roughly 600,000 cubic yards of muck, enough to fill three-fourths of the bowl of Memorial Stadium, was scooped from the lakebed. Most of the sediment was removed from the bays on the north side of the lake and the perimeter of the main arm, increasing the depth of water within casting distance of where most bank anglers fish to 10 to 12 feet.
Keeping sediment out of the lake and protecting the shoreline was the second priority. The Commission had built two-stage sediment traps in reservoirs it had previously rehabilitated. At Conestoga, they added a third, creating three fingers that come from opposite banks that Holmes Creek snakes around before reaching the main sediment dike. This shallow area also forms a wetland that is being colonized with cattails, bulrushes and an assortment of native pond weeds and smartweed that filter sediment and provide food for migrating waterfowl. Along the creek in the wildlife area above the reservoir, three wetlands were dug and the bank notched to allow the stream to spread out, slow and drop more sediment before it reaches the lake.
Smaller sediment traps were built on two smaller, intermittent streams that flow into the lake from the north. The reservoir had already lost some of its surface area, and the sediment basins took more, reducing its size to 160 acres, a worthwhile loss to maintain water quality. The lake's outlet was modified to allow the lake to be lowered to remove the silt that will one day fill in the basins, rather than the lake, a process currently underway at Wagon Train and Summit lakes, sites of previous Aquatic Habitat projects.
Nearly all of the shoreline is now protected from wind-driven waves by breakwaters or riprap, addressing the other source of sediment. "Offshore breakwaters create a calmer environment for more wetland species to get established and they do function really well," said Jackson.
Hundreds of trees had to be removed to build the structures and reshape the lake's shoreline. Most were moved to the lakebed to create fish habitat. Some were cut and stacked like Lincoln logs. Another 400 eastern red cedar trees were cut and hauled in from the wildlife area.
There are also now a dozen underwater islands or shoals dotting the lakebed. Some were built with old riprap that had lined shorelines, others with rock that was hauled in specifically for that purpose. Some were built with soil and topped with rocks, trees or gravel.
"If you add up the rock piles and trees, I know you're well over 500 or 600 structures in there," Jackson added.
All of that structure will attract fish. "They like protection," Jackson said. "Small fish will congregate around them. You'll certainly get some bass around those, and the crappies orient around those things also."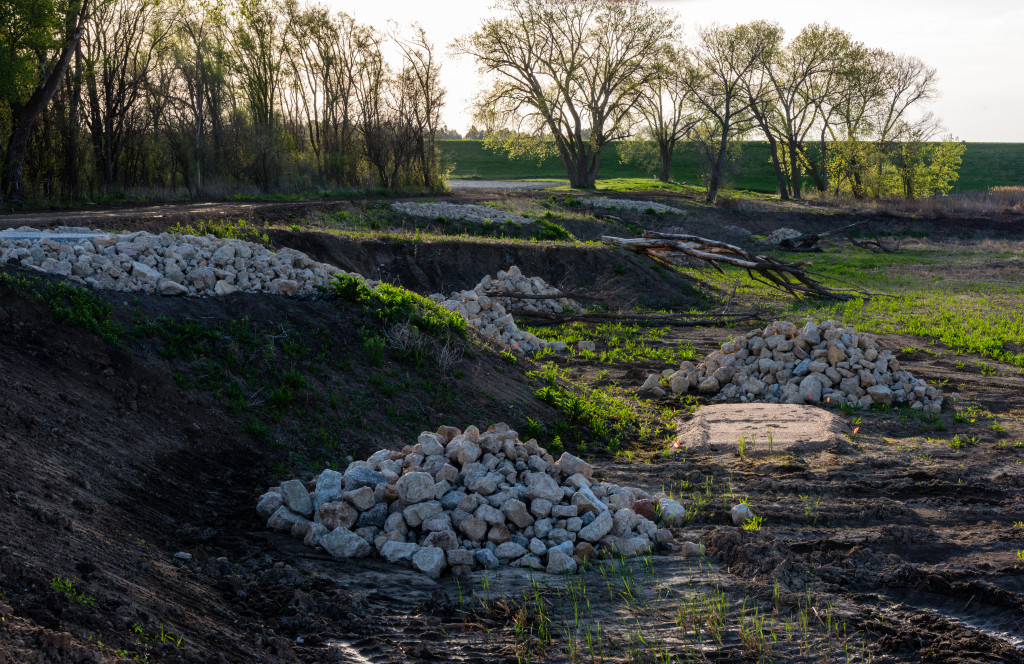 The number of angler hours fell to 18,000 per year by 2012, half of what it had been 20 years earlier. Based on what they've seen following other projects on the Salt Valley Lakes, biologists expect that number to quadruple soon.
As has been the case with other projects, the 417,000 fish stocked since the fall of 2018 are growing fast. The lake received the usual dose of largemouth bass, channel catfish, bluegills and crappies added to eastern Nebraska lakes. But biologists also added redear sunfish, rock bass, walleyes and, last fall, 1,150 17-inch tiger muskies.
Walleye and bass have reached 15 inches, crappies 10 inches and bluegills 8 inches. "The fishery has taken off," Blank said, "and angler catch rates were high last spring. I would expect the crappie and bluegill fishing to be good out there this year. I don't see any reason it wouldn't be."
In all, the project is showcasing what commission biologists and the engineers they work with have learned during the first 25 years of the Aquatic Habitat Program.
"This is the biggest aquatic habitat project that we've ever undertaken," Jackson said. "We tried to create a balance between access and habitat improvements.
"If you go to Conestoga, you say, 'They did a lot of things here.' I think there's some balance here. You can't just do everything under the water."
But boy did they.