Kearney's new whitewater park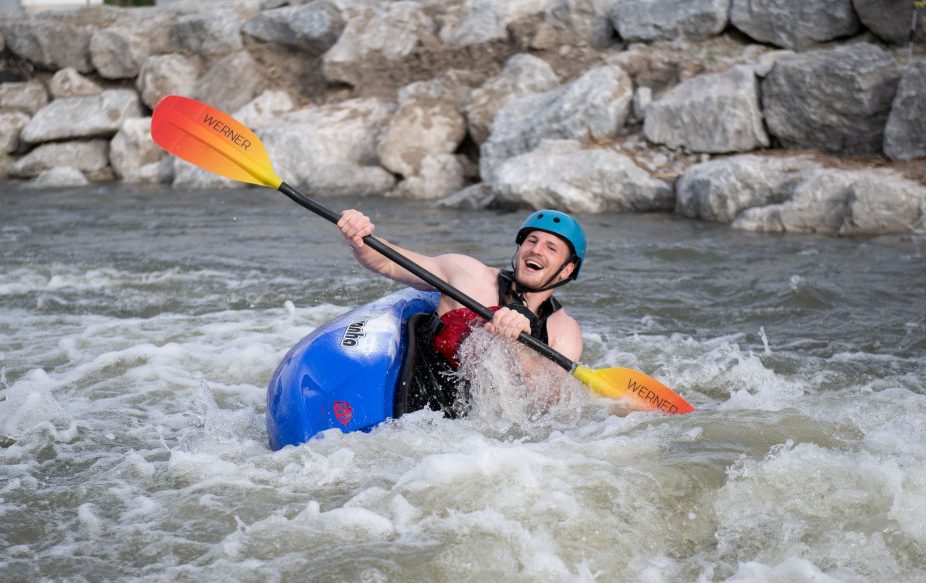 By Eric Fowler
Even though he hadn't used it for years, Dylan Knapp brought his whitewater kayak with him when he moved to Kearney in 2021. At the time, he didn't have a clue he would be dusting it off, along with his bag of playboating tricks, including flat spins, stern squirts and loops, when the state's first whitewater park opened in his new home a year later.
"I picked the perfect time to move to Kearney," said Knapp, who was one of the first to paddle the new rapids on Turkey Creek when water started flowing in April and has made many excursions since.
"I've been waiting. To come here and actually have rapids for the first time in 8 or 10 years is huge."
History of the Kearney Water Trail
The whitewater park is located at the tail end of the 2.3-mile-long Kearney Water Trail, which has been a boon to paddlers in town since the trail opened in 2016. A joint effort between the Kearney Whitewater Association, the city of Kearney and the Nebraska Public Power District, the trail begins on the Kearney Canal in Yanney Park, joins Turkey Creek a half-mile downstream and winds its way along the southwestern edge of town before ending above Central Avenue. It is open from April to October when the power district is operating its hydroelectric plant below Kearney Reservoir, which draws water from the Platte River near Elm Creek.
The roughly 100-member Kearney Whitewater Association spearheaded development of the trail. Its founding members, a grassroots group of a dozen or so individuals who simply enjoy paddling, met at a local watering hole in 2011 to discuss resurrecting the idea of a water trail and whitewater park that was born and died in the previous decade. Members donated thousands of hours to help clear 20 tons of trash, car bodies and other debris from the bed and banks of the creek, and the group split the cost of building the put-in and take-out points with the city.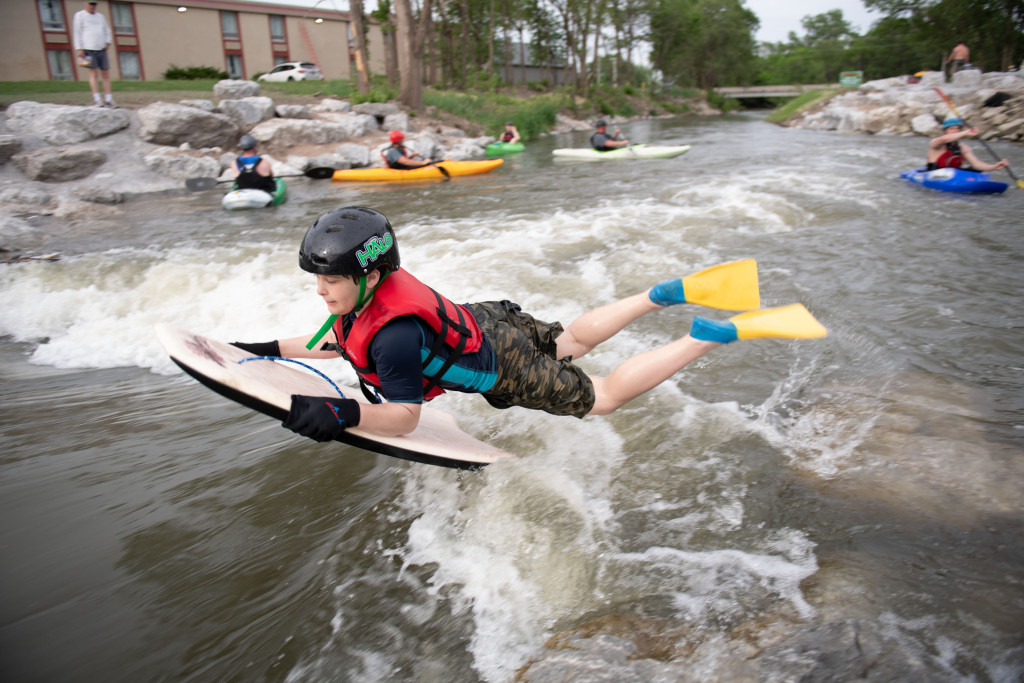 Their ultimate goal, however strange it may have sounded at the time, was to build what was part of their name: a whitewater park. They funded a feasibility study with a Colorado company to see if such a park was even possible. When the study found it was, they helped fund project design and worked with the Kearney Area Community Foundation to raise the money needed to cover the $700,000 cost of the park, working through a "brutal" two-year stretch that included severe flooding on the creek in 2019 and the COVID-19 Pandemic that started in 2020. In the end, they raised $260,000 from grants and foundations, and $112,000 from individuals in the community — including $40,000 from the core group of KWA board members — for the whitewater features and the water trail. Along with it, the city of Kearney committed $400,000 to the projects.
"I think really, up until a year ago, it still seemed like we were making this whole thing up, like it was never going to happen," said Carson Rowh, a whitewater paddler and founding member of the whitewater association. "I'm still pinching myself to be honest. It's beautiful."
The Course
The whitewater park includes two drop structures above and below Second Avenue constructed this past winter with limestone boulders and rock trucked in from a quarry in Weeping Water and held in place with sheet piling and cement. The structures form a V across the creek channel, pooling water above them. As water rushes over the structure and drops into a hole below, it turns back on itself and creates a foam-topped wave. Unlike waves in the ocean, however, these don't move. But experienced kayakers can paddle in from eddies on either side of the drop and ride the wave like a surfer.
That kind of experience isn't needed to enjoy the whitewater park, though. Paddlers on the trail can simply point their boat downstream and ride right through the wave.
"They're both surfable," Knapp said. "The top one is a little easier. The bottom is a little bigger. With both of them, you're probably going to get water in your boat coming down, so just be ready for that."
Flows at the features vary depending on natural flows in Turkey Creek and, according to the U.S. Geological Survey stream gauge on the creek, range from roughly 150 to 250 cubic feet per second on weekdays when NPPD's hydroelectric plant is operating. "I would say anywhere from around 180 to 250 cfs is where it is best for surfing. Any higher and you can't stay in the wave because the water is too high and washes the wave out, and any lower it gets kind of rocky and small," Knapp said, adding that the lower flows also mean a bigger drop and more water coming over the bow of paddlers heading through the features.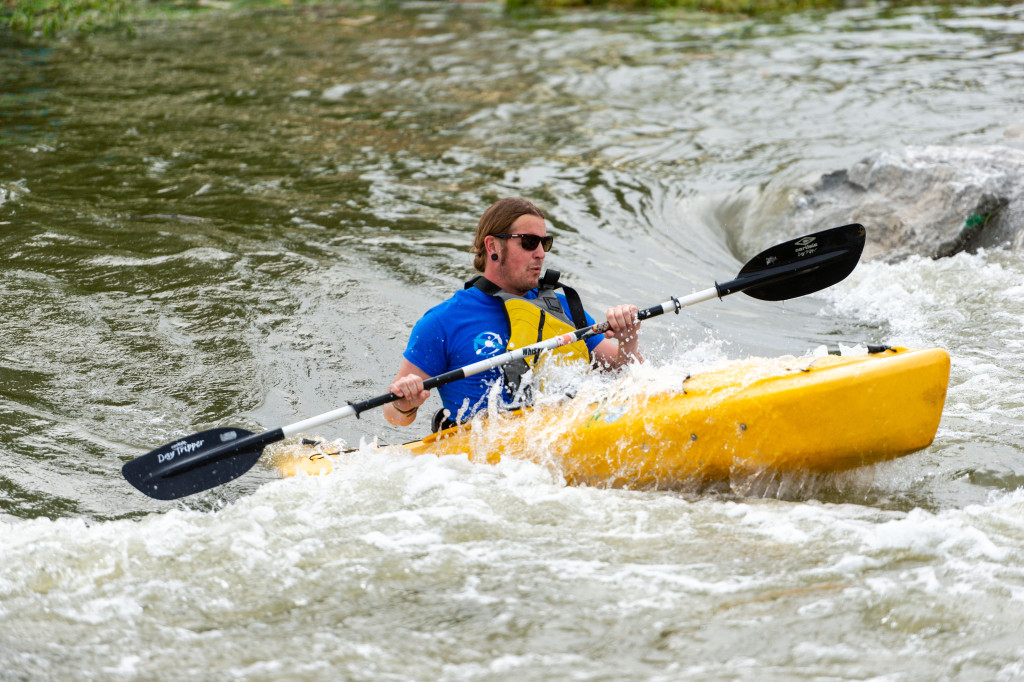 If you happen to capsize, the drop structures are designed to spit you out of the whitewater and send you downriver, where you can easily get to either shore. Life jackets are recommended for all paddlers, and helmets for anyone attempting tricks in the whitewater.
Below each feature, boulders terrace the shoreline, providing a place for spectators to sit and watch. Paddlers can carry their kayaks from the bottom feature back to the top along the paved hike-bike trail on the south side of Turkey Creek, part of a 13.1-mile trail connecting Cottonmill Lake and Fort Kearny State Recreation Area. Parking is available in the lot at the end of the water trail on Central Avenue.
If You Build It
There are more than 70 manmade whitewater parks of varying shapes and sizes around the country, with more on the way. Each draws paddlers from near and far, a fact that was included in the economic development side of the fundraising pitch used by the Kearney Whitewater Association. An economic impact study completed by a University of Nebraska at Kearney student estimated the park would draw 7,900 paddlers, nearly half from outside Buffalo County, and bring $1 million annually to the community.
That doesn't surprise Rowh, who said 16 float trips the group organized on the water trail since it opened and promoted through social media drew people from 44 cities and eight states. In its first month, the whitewater park had already drawn people from across Nebraska. "People from Colorado, Iowa and South Dakota are online talking about making trips this summer," Rowh said. "It will bring people, there's no doubt."
Bob Peterson has been whitewater kayaking since 1975 and drove 2.5 hours from Norfolk to try out the new park the week it opened. He came back in May with his son and grandson. "I don't get to [whitewater kayak] much because I live in Nebraska," he said. "I've always had a full-time job, so it's always been long weekends and vacations."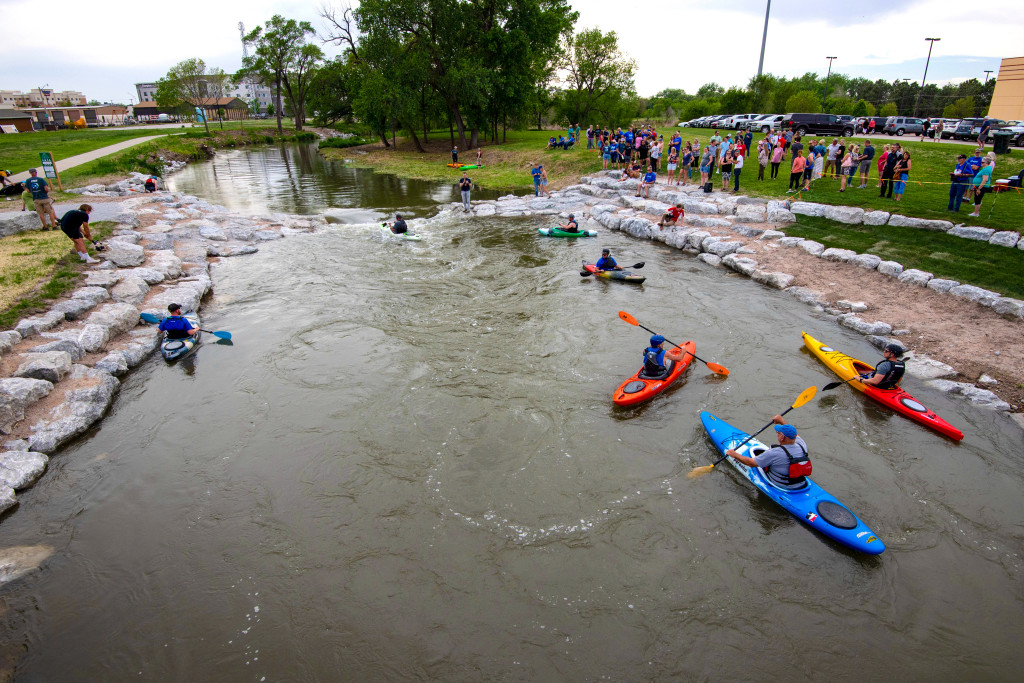 Peterson liked what he found, spending a few hours playboating in the features. "It's real easy surfing," he said. "It's real easy to get in, and it's pretty forgiving."
Though you can seemingly buy a kayak anywhere these days, retailers in Kearney may want to expand their selection to include short, skirted, maneuverable, whitewater kayaks as more people try out the park. Knapp and Justin Stout, outdoor adventure coordinator at UNK's campus recreation department, are talking about teaching roll classes so those who flip can get back upright while riding the waves. "It's going to be a fun summer," Rowh said.  ■
More Parks?
The Kearney Whitewater Park won't be the only such park in Nebraska for long. Work will begin this month on an $8.4 million redevelopment project in downtown Norfolk that will include eight drop structures on the North Fork of the Elkhorn River.
The North Fork Development Project is centered around restoration of Johnson Park, a federal Work Project Administration plan from the 1930s that was a centerpiece for the town before it was wiped out by flooding in the 1960s.
The project will restructure the river, replacing an aged hydroelectric dam with smaller drop structures to create whitewater features. It also includes a trail system, fish-habitat improvements and angler access, an amphitheater and festival space along the river, as well as business and residential development and street improvements. It is expected to be complete in the fall or winter of 2023.