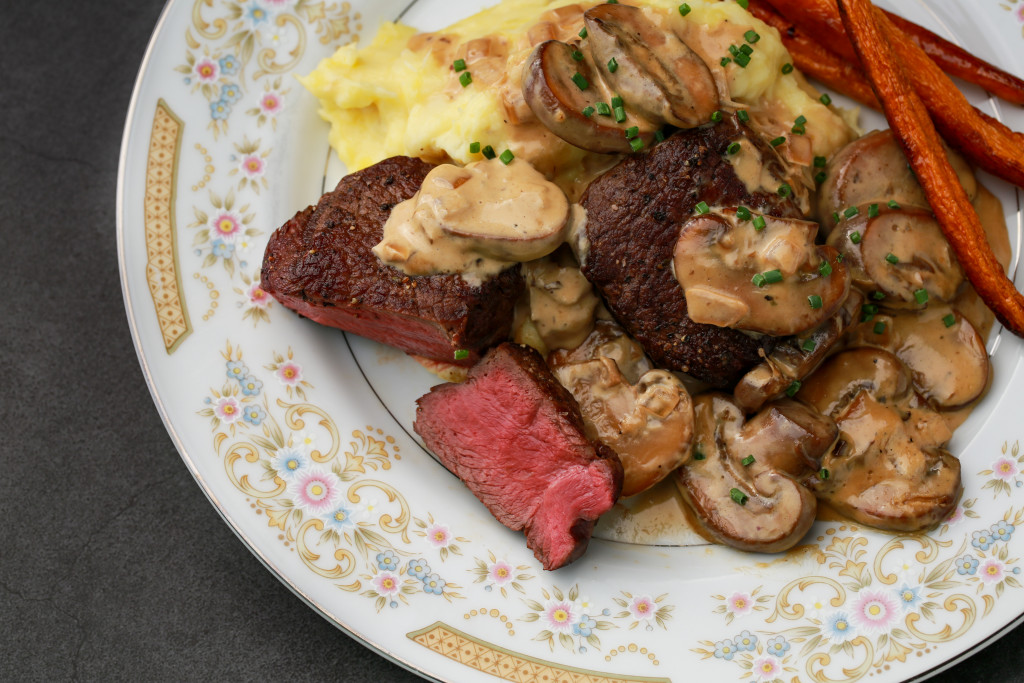 Queen Elizabeth II is close to what I would consider a "hero," and Gaelic steak is one of her favorite dishes. Although Her Royal Highness might enjoy this recipe prepared with beef tenderloin at Buckingham Palace, venison loin is the protein of choice when the Royal Family retreats at Balmoral, which is located in the Highlands of Scotland.
Servings: 2
Prep Time: 10 minutes
Cooking Time: 40 minutes
Ingredients:
• 1 pound of venison loin
• Kosher salt, to taste
• Freshly cracked pepper, to taste
• Olive oil
• ½ pound of peeled parsnips
• ½ pound of peeled starchy potatoes
• 3 tablespoons of butter, separated
• About 1½ cups of heavy whipping cream, separated
• 8 ounces of sliced mushrooms, your choice
• Quarter of an onion, chopped
• 1 ounce of Irish or Scotch whisky
1. Take meat out of the refrigerator one hour prior to cooking. Cut into 2-inch-thick medallions and season with salt.
2. Preheat oven to 300 degrees F. Cut parsnips and potatoes into cubes — the parsnips will take longer to soften, so cut them smaller. Place in a saucepan, cover with salted water and bring to a boil. Simmer until softened, about 30 minutes. Keep warm in the water until you're ready to prepare the rest of the dish.
3. Heat oil and 1 tablespoon of butter in a pan. Pat venison medallions completely dry with paper towels and salt again if desired. When butter and oil gets hot, brown meat on both sides for a good crust. Transfer venison to a rimmed cookie sheet and sprinkle cracked pepper on both sides. Roast in a 300-degree oven until internal temperature reaches 127 degrees, about 5-7 minutes, for medium rare. Take meat out of the oven and loosely tent with foil. Allow to rest for at least 5 minutes before serving.
4. While the venison is in the oven: In the same pan where the venison was browned, add more oil to the pan and brown sliced mushrooms over medium-high heat. Then add onion and sauté until soft. Carefully stir in whisky and allow to simmer until almost completely evaporated. Lower heat to low and stir in 3/4 cup of heavy cream. Simmer until thickened and season to taste.
5. Meanwhile, drain parsnips and potatoes and return to the warm pot. Add 2 tablespoons of butter and mash. Stir in heated heavy cream, as desired, and season to taste. Serve mashed parsnip-potato and venison with cream sauce on top.  ■